1. Do you have a product that will withstand extremely heavy traffic as well as heavy machinery such as hi-lows, floor jacks, etc? I heard solvent-borne epoxy is more durable.
Yes. We do offer a solvent-based industrial-grade version of the floor coating kits. This kit includes a UV-Resistant urethane high-gloss top coat (also in a flat finish). This doubles the durability and life-expectancy of your floor. Please contact us (1-800-227-8479 or email us for a quote. Be sure to have the square footage of your surface before contacting us.(length x width).
Click here to download more basecoat options for waterborne or solventborne epoxy.


[Back]

2. Is the topcoat necessary? I've noticed most brands do not offer the topcoat.
Much of our competition do not offer a clear top coat. We have found that the topcoat is completely necessary. Applying the topcoat will seal in the chips, provide a uniform high gloss sheen and add yet another protective layer to your floor. When we have installed floors without the clear top coat we have found that yellowing (or ambering) is much more likely to occur. Even light traffic can cause the chips to curl or discolor. In most cases dirt and debris gets easily lodged around the chips.

In the example below,half the floor was applied with the clearcoat and half without. We took an oily/dirty rag and rubbed down the entire section on both sides. After waiting 48 hours, we took a clean rag and rubbed the dirt and oil off. You can see that the side with the clearcoat easily wiped clean, while the side without left a dingy residue over the surface.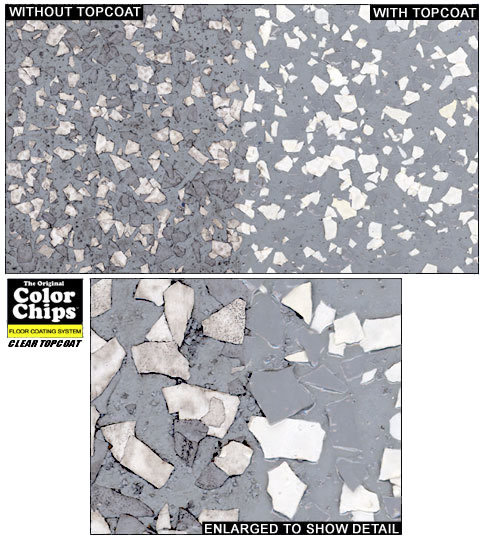 [Back]

3. Do your color chips work with other epoxies or urethanes?
Yes. They will work with any epoxy or urethane product.
[Back]

4. I want a basecolor other than the ones picture on your site. Can you custom tint the epoxy
Yes. We can custom tint the basecoat epoxy if you need two or more gallons; in two gallon increments. (example, if you need two gallons or four gallons, or six gallons, and so on) Click here to download more basecoat options for waterborne or solventborne epoxy.

.
[Back]

5. Do your color chips provide a non-skid surface? Do I really need the non-skid additive?
The chips will provide a very small amount of non skid. Once you clear coat over the top of the chips it seals them in and puts the shiny gloss coating over them. This does make the floor slick when water gets on the surface. The non skid is applied as the chips are applied into the base coat epoxy. Thus providing additional bumpage to the surface. Application: Surfaces coated with high-gloss epoxy may become slippery when wet. For additional slip resistance in areas of pedestrian traffic, use the Non-Skid Additive. While applying your color chips, take a pinch of non-skid grit and flick it into the wet basecoat. Be sure not to apply non-skid in a high-concentration.(the more you use the more visible) LIGHTLY Sprinkle at 1 bag per 350 square feet, using the pinch and flick technique. An alternative way of doing it would be to sprinkle into your wet topcoat then backroll over it with your roller. (one roll forward with your roller, sprinkle your nonskid, then roll your roller back over it).
[Back]

6. I have seen a lot of products that say if my floor has any moisture, the epoxy will not adhere properly. Does your product have issues with garage floors that have moisture?
A small amount of moisture will not hurt a thing, large amounts could cause problems. To test, tape a piece of plastic 12" X 12" TO THE FLOOR LET IT SET FOR 24 HOURS and see how much moisture develops on the back of the plastic. If you do find that you have a moisture problem contact us regarding our "breathable" epoxy 1-800-227-8479 or email us: ryan@originalcolorchips.com).
[Back]

7. Can you use this product on exterior sidewalks too?
It is not recommended to use this product outside. Exterior exposure will cause early dulling and loss of gloss, and increased ambering. Your best bet is to use a concrete stain or tintable urethane, and put the color chips on the first coat of it.
[Back]

8. My floor has been painted in the past, but has completely lost its coverage in the some area where the car is parked in the winter. It's very old and deteriorating in these areas (not flat, sort of crumbling). Can I use your product?
If your floor is crumbling, it would be best to take out all of the loose concrete, making sure only the pits remain. You can fill the pits in the concrete with a concrete patching compound, making sure the entire floor is level. Now if you have loose paint, you are going to have to grind that paint up with a diamond grinder, otherwise the epoxy will peel up with the paint.
[Back]

9. Can this product be used to paint a Formica kitchen counter top or ceramic tile? Seems like if it is tough enough to drive on, it ought to be tough enough for counter use.
The epoxy we use for our garage floor coating kits is not FDA approved for direct food contact. However, Our epoxy can be easily applied overtop of ceramic tile. The ceramic tile needs to be aggressively sanded/grinded prior to application. (roughened up to resmemble as least 40-60 grit sandpaper). The more textured, the better. It then needs to be primered with a waterborne epoxy primer. (we have that available as well.)
[Back]

10. How does your product compare to the home depot/lowe's product?
Essentially, The epoxy-shield and the original color chips product are both waterborne 2-part epoxy coatings. A) We have no tire lifting problems. B) Most home depot stores do not offer the clear coat epoxy (or urethane) which adds another layer of protection as well as provide a high-gloss sheen. See question #2 C) The rustoleum kits have two colors of basecoats to choose from along with the chips that go along with it, we have eight basecoat colors and over 30 different color chip combinations. D) There is little or no customer service with the Rustoleum/Behr Product if your problem doesn't fall within their specific guidelines. On the other hand, We will do whatever it takes to make sure your floor is what you intended it to be.
[Back]

11. Do you have a downloadable brochure that I can print out?
Yes. Download it from http://www.originalcolorchips.com/images/original_color_chips_brochure.pdf

(9mb)
[Back]

12. Who is Norkan? My package says it was shipped from Norkan Inc?
The Original Color Chips Company. is the sister company of Norkan Inc. Norkan is a leading supplier of asbestos, mold, and lead abatement as well as performance coatings and safety supplies.
[Back]

13. Where can I find the decals that you show on your website? How is it applied?
Most of our customers get custom stickers by "googling" the word, vinyl stickers. Or head on over to Ebay and look there. To apply a sticker, you must place the sticker into the wet basecoat, then throw your colorchips, once the basecoat has sufficiently cured you can clearcoat right over it.
[Back]

14. We have a linoleum (sheet vinyl) floor. It is in good condition physically but the surface is scratched and dull. Can we apply your product over this existing floor without removing it down to the concrete slab?
Yes. As long as the floor is securely fastened to the concrete (not peeling up) you can put a coating overtop of it. To prep the surface for adhesion you will want to aggresively sand the floor to get a rough profile (should feel like 60-grit sandpaper or more coarse). I would recommend using a floor grinder to scuff the surface, or pole sand it by hand. Then sweep or rinse debris away and start coating. Most importantly, the surface must be textured.
[Back]
15. I've read that a primercoat will help with longevity? Do you have a primer epoxy available?
You are correct. Primering the substrate will not only allow give you a higher build but it will assist in adhesion, giving your floor more longevity. We offer it as an option. The Waterborne Epoxy Primercoat (TRU-GLAZE-WB 4030) in our online store or another way of primering is you can purchase extra basecoat kits and thin it out with water (preferably with 8 oz of warm water per gallon of epoxy).
[Back]
16. Can I use your epoxy to cover wood, Steel, Metal, Ceramic Tile, or Fiberglass?
Yes, Howver it must be primered. Our primer coat epoxy will also allow proper adhesion over a variety of substrates: Wood - Prime with Original Color Chips Basecoat Epoxy product reduced 8 ounces per gallon with water or prime with waterborne primer (TRU-GLAZE-WB 4030). Steel - Prime with waterborne epoxy primer TRU-GLAZE-WB 4030. Galvanized Metal and Aluminum: Prime with waterborne epoxy primer TRU-GLAZE-WB 4030. Glazed Brick, Ceramic Tile and Fiberglass - Scuff sand and prime with waterborne epoxy primer TRU-GLAZE-WB 4030.
[Back]
17. Where I live our winters are pretty harsh. My 2-car garage is painted with epoxy, and when snow melts off the car and lands on the floor it just sits there and forms a puddle. I have no idea how to contain this problem.
Epoxy makes a great surface for a garage floor because it's easy to clean. But it also prevents moisture from being absorbed into the concrete, so puddles tend to stay around longer. Short of wiping snow off the car before you drive in, about the only thing you can do is to place a large "welcome mat" under the car. Various mail-order companies offer these car-size vinyl mats, which have shallow grooves to contain the slop and protect the epoxy from road salt and grit. Come summer, you can just roll up the mat and store it until winter. Or keep it on all year round to maintain your floors lifespan.
[Back]
What's the best way to disperse the chips; how about Non-skid and Clearcoat?
CHIPS: First, Be sure to have enough chips to do entire surface. Calculate 1 bag per 250 square feet (or the size of a single car bay) for light sprinkle, 2 bags per 250 square feet if you are doing a medium sprinkle, etc. That way you will get a more uniform coverage. Throw chips upward not downward (almost like you are shooting a basketball, only using a pinch at a time). A second person wearing Spike shoes or golf cleats will give you the ability to walk onto the wet epoxy while you are throwing your chips, which is the easiest way to get a more uniform coverage. If you do not have spike shoes or golf cleats, the second person may apply chips in conjunction with the first person rolling the basecoat.

NON-SKID: Surfaces coated with high-gloss epoxy may become slippery when wet. For additional slip resistance in areas of pedestrian traffic, use the Non-Skid Additive. While applying your color chips, apply into the wet basecoat or use in clearcoat by rolling forward, sprinkling, then backrolling over once again.. Be sure not to apply non-skid in a high-concentration. Sprinkle at 1 can per 500 square feet or more using the easy sprinkle can.

CLEARCOAT: Once your ready to apply topcoat (waiting overnight for the basecoat to efficiently cure), mix Part A and Part B together (equals one gallon). Refer to the basecoat mixing and application instructions for the Topcoat. It will be the same procedures. Be sure to roll one even coat of Crystal Clear topcoat to entire surface to be coated (we recommend a good 3/8" nap roller). Material will go on as a milky white (may even look like white paint) and dry Crystal Clear. Smooth out any visible clumps of clear coat. If you come to the end of your floor and you still have clearcoat left over do not use the mixed material to add thickness to the layer you just put down. Discard unused material (if mixed). Applying Clearcoat overtop of itself without waiting for the first layer to cure will cause curing problems. If you do decide to double coat the clear top coat, please allow at the minimum of 14 hours for the first layer to cure before attempting a second coat. (heavy or full broadcasts of chips often calls for a double layer of clear coat.)
[Back]
19. My garage is already coated with an epoxy, what do I need to do to prep the floor for a new coating?
COATING A PREVIOUSLY PAINTED SURFACE:
If your previously painted surface is lifting: The waterborne components of this product allow use over most old coatings. Old coatings should be tested for lifting. If they lift, remove them. (citrus strip is a good epoxy stripper). Wash to remove contaminants. Rinse thoroughly with water and begin etching. The entire surface should resemble 80 grit sand paper (or more coarse), so the new epoxy coating will adhere properly.

If the floor is painted and the paint is peeling off at an excellerated rate, most likely any epoxy you apply will also peel off. Grinding the existing paint off with a floor grinder/diamond griner/scarifier is recommended. (Floor grinders may be able to be rented locally, but we do carry them in our store: See example.) or use an epoxy stripper to strip the coating off, then etch normally.

If your previously painted surface is NOT lifting: If the coating is securely adhered to the concrete you do not need to remove it. Simply dull glossy areas by light sanding. Remove sanding dust. Remove any debris and clean thoroughly. A good way to test for lifting and prep your surface for another coating is to sand the entire floor (pole sanding works well), rinse away debris, allow to dry then start painting. Check surface to make sure it is no longer glossy, epoxy will stick to epoxy if the previous coating has been dulled out. If the coating is textured, even better. NOTE: The etch n' clean solution is not necessary when coating overtop a previously painted surface.
[Back]
20. Hey, I have a wooden car hauler, can I apply this on wood?
APPLYING ON WOOD: You will need two coats of basecoat epoxy when coating wood. Prime the surface with basecoat epoxy reduced one-half pint per gallon with water. (this thinned coat will soak into the wood thus creating a bonding agent for your second-layer of basecoat.) Then you would apply your actual basecoat and chips , followed by the clearcoat as normal.
Note: You wouldn't need the etch n' clean for coating a wood surface, just a double basecoat.
[Back]
21. When is the best time/temperature to apply my floor coating?
TEMPERATURES: Do not apply this product when temperature is below 50 degrees fahrenheit. Do not use a heater⁄space heater to speed up the curing⁄drying times. The large amounts of carbon dioxide emitted by heaters can cause a disruption in the curing process and create yellowing. Applying this product in cold climates (when surface is between 50 degrees and 60 degrees) will not affect the protective properties, it will double your drying⁄curing times.
22. How tolerant is an epoxy floor to water exposure? In cases of extreme rain/flooding conditions, my basement will take water in certain areas. This does not occur often, but enough to make carpeting unsuitable.
The epoxy is very tolerant to damp areas and even areas with continuous moisture, but any coating will have a more difficult time than on areas that don't have moisture issues. Honestly, the best "assurance" that you won't have any problem with peel-ups, etc would be to use the waterborne epoxy primer first, then use waterborne epoxy basecoat over it. The primer is a low-solids epoxy that sinks deep into the substrate to get a better "bite" onto the concrete, so your basecoat can go much further and have a much more uniform sheen and build.
23. I am looking for a full-broadcast chip coverage floor, can I achieve this with your product? I want to create the "granite" or "marble" look. Would the clear top coat included with the complete coating kits achieve the glossy shine of polished stone?
The waterborne epoxy clearcoat will definitely give it a high gloss shine and offers excellent protection in basements, but it is a thin-mil coating so if you are doing a full broadcast color chip dispersion (no basecoat showing, just chips exposed) doesn't offer much depth. You can achieve a great marble type look with a extremely heavy broadcast of chips and the waterborne clearcoat. (6 lbs. of chips per 250 sq/ft), because the waterborne clearcoat is very thin, the more chips you use the more "bumpy" it can be. Though, this helps in creating a great nonskid surface. But if you want a complete level surface we recommend using the Norklad 100 – 100% solids epoxy. This clearcoat epoxy is used in granite-look terrazzo floors is 100% solids clear epoxy. Norklad 100 is a durable clearcoat that is used on high-end floors (it's actually 4x stronger than concrete). When applied at 100 sq/ft per gallon it self-levels out (around 16 mills thick), it only has a 30 minute pot life (time the material has before hardening once the part a and part b components are mixed together.) To achieve full broadcast chip coverage: . Apply your basecoat epoxy as normal, and sprinkle your chips; you would use 10 lbs of chips per 100 sq/ft. (covering entire surface so that no basecoat is showing). After the coating hardens to the point you can walk on it, scrape the excess chips off with a scraper, sweep or vacuum up the debris. This leaves the floor much smoother, then broadcast your clearcoat as directed.
24. Do you carry 100% solids epoxy as well? Yes, It's called Norklad 200 and it's available in these colors.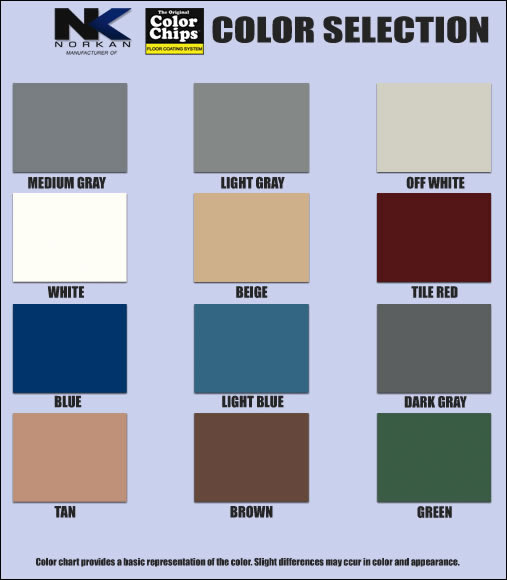 100% Solids/Norklad 200 Color Chart
25. When I mix/apply my clear coat it turns milky white, plus it isn't a full gallon. Is this normal or did I do something wrong?
The waterborne clearcoat epoxy is a thin mil coating that is geared to cover between 300-400 sq. ft. a kit (Part A Part B) so it is not a full gallon. It starts off white and turns crystal clear as it cures. Thicker areas take longer to cure and turn clear.